Bar Rouge Shanghai presents:
CARTA & CO
Friday January 17th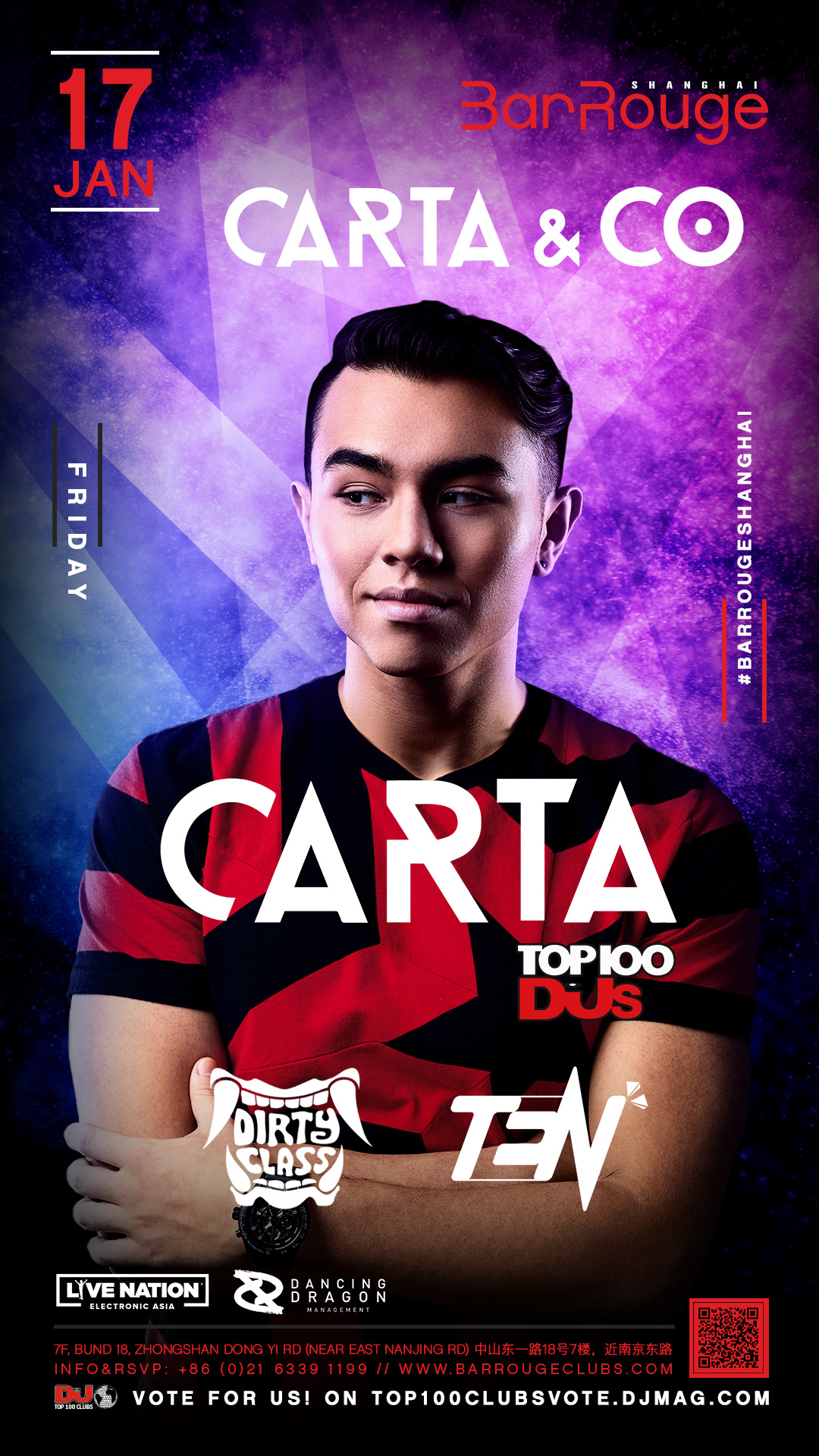 CARTA & CO sees China's most prominent beatmaker, DJ CARTA (Top100DJs #72), taking the decks of Bar Rouge Shanghai on Friday January 17th alongside guest DJ Ten and DJ-duo Dirty Class for a night of House & Dance Music on Shanghai's Bund.
Carta is known for his highly energetic presence as well as his passion to grow in his ever-evolving sound. Having thrown greatly captivating sets at the most renowned Music Festivals such as: Ultra, Tomorrowland, Creamfields and recently ranking at the number #1 on Pyro Music Awards, celebrated at Bar Rouge on September 2019, Carta promises a music experience that cannot be missed!
Get your Tickets NOW at Pre-sales price, for only 100rmb and join us at Bar Rouge Shanghai.
CARTA & CO 本次带来中国最著名的DJ音乐人,DJ Carta(百大DJ榜排名第72位)将在1月17日周五与两位特邀嘉宾DJ Ten与DJ-duo Dirty Class一起莅临Bar Rouge上海 为大家在传奇的外滩带来一晚精彩绝伦的音乐表演!
Carta拥有过人的音乐才华,是国内首屈一指的电子音乐人。他在几个极具重量性的国际舞台上带来的精彩演出令人印象深刻,例如Ultra电子音乐节,Tomorrowland音乐节,Creamfields音乐节以及最近在Pyro音乐 将获得第一名的好成绩。2019年9月曾来过BarRouge的他又将再一次为音乐爱好者们带来无与伦比的音乐体验!
现在就以预售价格100RMB获取门票!