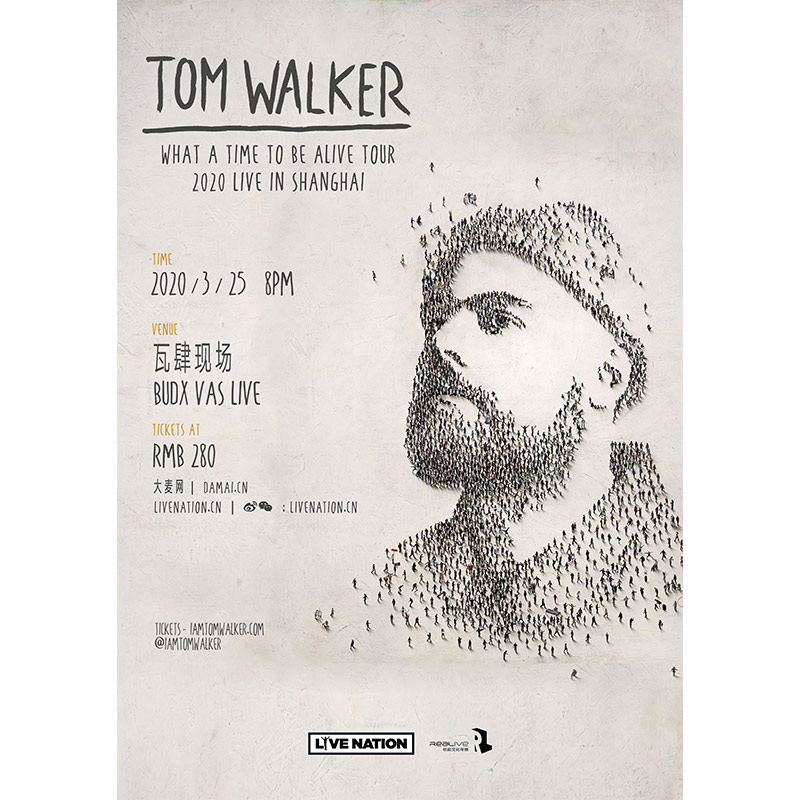 TOM WALKER 'WHAT A TIME TO BE ALIVE TOUR'
LIVE IN SHANGHAI
25 March 2020 at Shanghai BUDX VAS LIVE

Tom Walker, the Scottish born, Manchester-bred singer-songwriter will be bringing his "WHAT A TIME TO BE ALIVE TOUR" to China at Shanghai BUDX VAS LIVE on March 25, 2020.
Tickets at RMB 280 will be available for the public. For more show info, please follow Live Nation on Weibo and WeChat.
About Tom Walker
Tom Walker, the Scottish born, Manchester-bread singer-songwriter broke through with his International hit single "Leave A Light On" which became one of the biggest songs of 2018 as well as featuring on the global Sony Bravia TV campaign.
Without doubt, he has established himself as a major voice in music this year with his honesty and passion. His plaintive, acoustic driven new single 'Better Half Of Me', is as stunning and addictive as previous hits, 'Leave a Light On' and 'Just You And I'. All tracks feature on the special deluxe edition of his smash hit debut album 'What A Time To Be Alive', released November 8th on Relentless/Sony Music.
Written by Tom, along with UK songwriting powerhouse Joel Pott of Athlete, and Cam Blackwood (George Ezra, Jack Savoretti), and produced by Mark Ralph (Clean Bandit, Years & Years) and Cam Blackwood, 'Better Half Of Me' looks set to cement Tom Walker as one of the UK's breakout global stars.
His stats are simply mind-blowing:
1.5 billion streams worldwide
7 million singles globally
1 million lps globally
200,000 lps UK
Leave A Light On Platinum in 15 countries
2 million UK Leave A Light On
1 million UK Just You & I
Don't miss out his debut show in China!