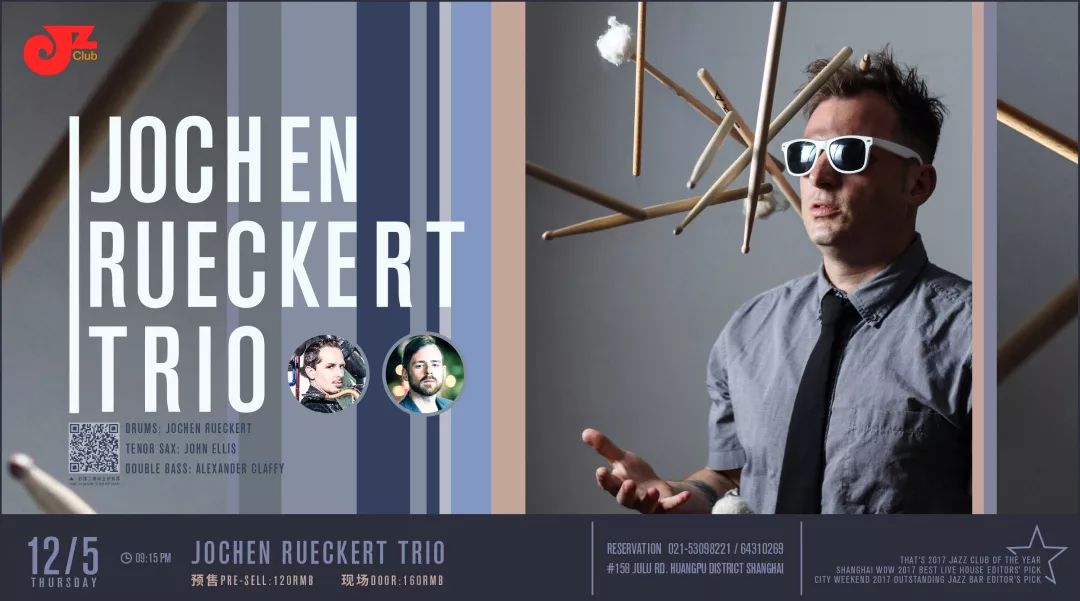 Line-up:
Drums: Jochen Rueckert
Tenor Sax: John Ellis
Double bass: Alexander Claffy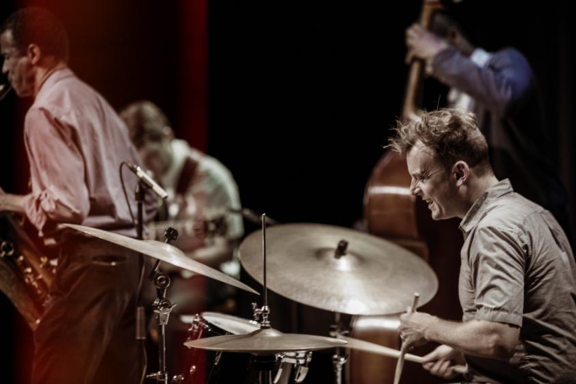 Jazz-center-of-the-universe-based, exiled German-born drummer Jochen Rueckert presents his new trio with tenor legend John Ellis and bassist Alexander Claffy .
The band from New York City plays Jochen's compositions containing surprisingly more optimistically swinging sections rich with chords than one would expect from a teutonic drummer, sprinkled with the occasional 3/8 bar for good measure.
Jochen's deliberate avoidance of formal music education, albeit initially for budgetary reasons, provides a great lack of erudite nonsense in his writing. Jochen is celebrating his 4th album, titled "Charm Offensive" (Pirouet records, 2016).
The band has been touring since 2011, reaching greater depths of musical interaction as it continues to do so, proudly devoid of the mounting gimmickry and desperate festival-pandering observed in many of its peers.
Jochen is mostly known for his work in 12 years of the Marc Copland trio, the mid-2000 Kurt Rosenwinkel New Quartet, all of Nils Wogram's Root 70, recent work with the Melissa Aldana trio, his electronic music programmed under the alias "Wolff Parkinson White" as well as his series of ebooks aptly titled "Read the Rueckert - travel observations and pictures of hotel rooms".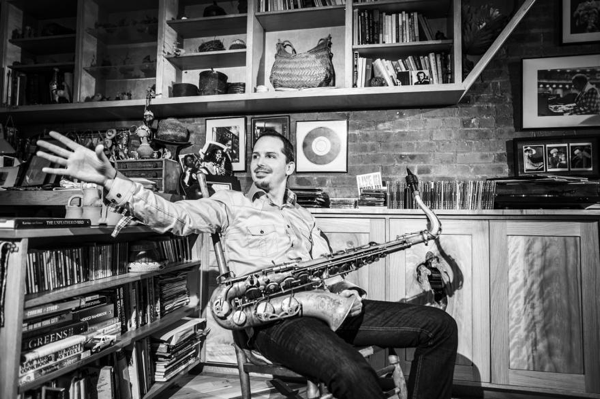 John Ellis is known for his 9 own prolific releases, his sideman work with Charlie Hunter and John Pattitucci trios, his appearance at Newport jazz festival, and for placing second place in the Monk competition in 2002.
The gifted, versatile saxophonist / clarinetist / composer John Ellisoccupies an imaginary (and extremely imaginative) space directly between the celebratory, welcoming spirit of New Orleans and the edgy, frantic streets of New York City. Both as the leader of his own eclectic projects and as anin-demand sideman for a mind-boggling number and variety of artists, Ellis expresses a keen intellect and easy virtuosity while maintaining a mischievousgleam in his eye and never letting tongue stray far from cheek.
That combination is best showcased in Ellis'eccentric combo Double-Wide, which recently released its third album, Charm, on Ellis'own Parade Light Records. Ellis also leads his own quintet of A-list players, whose most recent release was the 2012 Criss Cross release It's You I Like featuring songs by singer-songwriter Elliott Smith and legendary kids'TV host Mr. Rogers. An ambitious composer as well as an agile musician, Ellis in recent years has composed three large-scale narrative pieces commissioned by The Jazz Gallery in collaboration with playwright Andy Bragen ("Dreamscapes", "The Ice Siren", and "MOBRO").
The second place winner of the prestigious The lonious MonkInternational Saxophone Competition in 2002, Ellis has also established himself as one of New York's premier tenor saxophonists, working with artists as diverse as John Patitucci, Dr. Lonnie Smith, Miguel Zenón, Darcy James Argue, Charlie Hunter, and Sting. His discography lists more than 100 album credits as a sideman, with more than a dozen released in 2014 alone.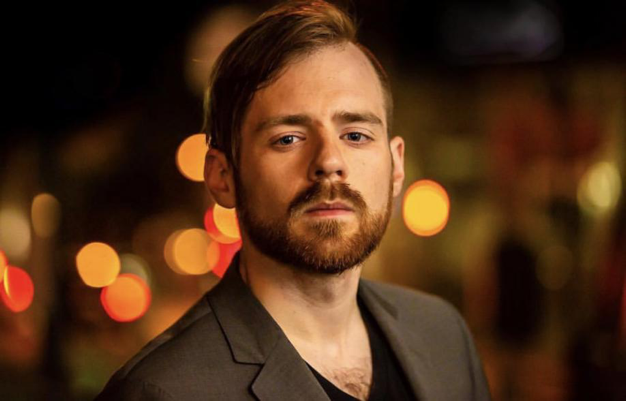 Alexander Claffy has been immersed in music since birth. His father a pianist, his mother, a vocalist, he had many of his earliest lessons on band stands in the heart of Philadelphia. As a teenager, CLAFFY found mentorshipin many natives of Philadelphia's rich music scene from Hard-Bop to Hip-Hop.Upon his arrival in NYC, he studied with some of the world's finest musicians including, Ron Carter, Barry Harris, and Orin O'Brien of the New York Philharmonic. Since moving to New York City in 2011, he has had the honor ofworking with many of his living heroes, including Wallace Roney, Christian Scott, Louis Hayes, Russell Malone and legendary New York pianist / vocalistJohnny O'Neal. CLAFFY resides in Harlem as a young lion and one of the mostworking bass players for the New York jazz scene for the past ten years.

DATE:2019.12.5 THU
DOOR TIME:8:00PM
SHOW TIME:9:15PM

JZ Club #158 JULU RD. HUANGPU DISTRICT SHANGHAI