Get 40% off for tickets marked at RMB780, RMB980 and RMB1180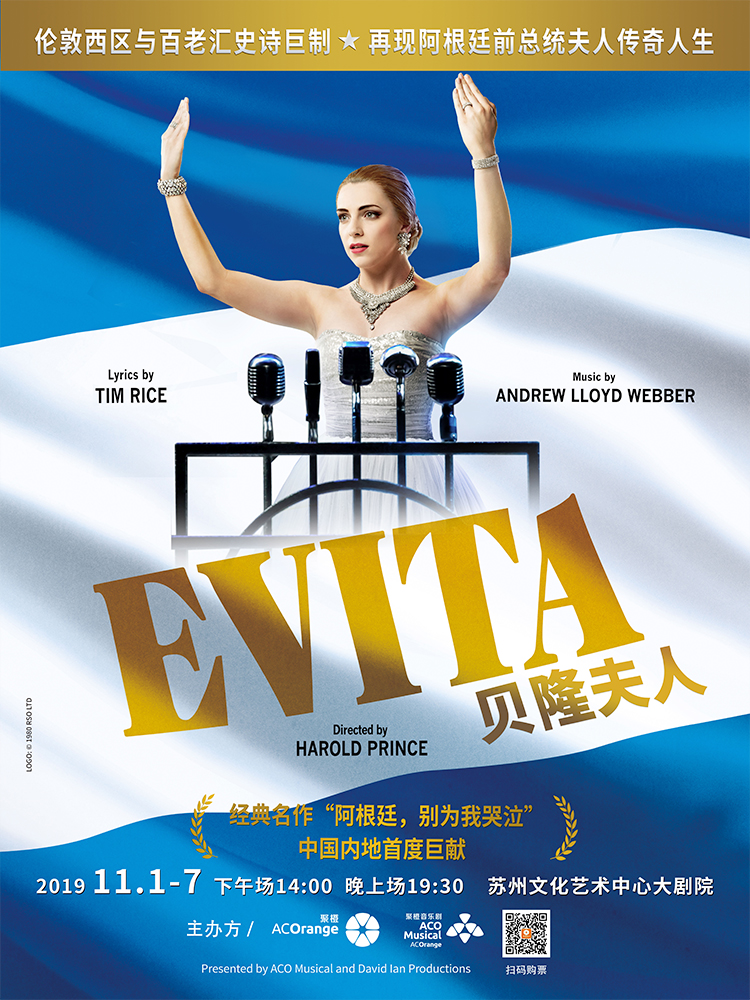 Please present the copy of your order details, email or QR code to receive the tickets upon entering the venue.
Student Tickets:
Please present your valid student ID with your photo ID (Passport or Resident ID card) to receive discounted pricing. Tickets must be purchased in person for the discount to apply. Student discounts do not apply to tickets purchased online.
Please note that you can only purchase one ticket per student ID.

苏州文化中心艺术大剧院
苏州市苏州工业园区工业园区观枫街1号
No. 1 Guanfeng Street, Suzhou Industrial Park Industrial Park, Suzhou City

About EVITA the musical
As a broadcast announcing the death of the first lady of Argentina breaks, a haunting chorus of wails fills the theater. The stage is lit up with mourners, as they chant: "Requiem aeternum dona Evita", their despair paramount, their grief overwhelming. Audience members are incapable of tearing their eyes away from the visceral scene unfolding before them. But who, as Ché puts so melodically, is this Santa Evita? "Evita, the Musical", dives headfirst into the life of Eva Perón, exploring her youth, career as an actress, rise to political power, and ultimate untimely death. The musical is raw, hopeful, and breathtaking; the power this show possesses to move an audience is unlike any other.
"Evita, the Musical", first premiered in 1978 on the West End, and was the product of a collaboration between famed composer Andrew Lloyd Weber, and lyricist/playwright Tim Rice. Weber, although having initially rejected Rice's proposal that they work together, was attracted to the idea of composing tangos and other latin music for the score. The show as a whole, however, has a wide variety of musical styles: ranging from ballads, choral interludes, and various latin stylings. The musical consists of three primary characters: Eva Perón, Colonel Juan Domingo Perón, and Ché (presumably based at least in part on Ché Guevara). We follow the life of Eva Perón, formerly Eva Duarte, the titular character, as she leaves behind her provincial roots by convincing a tango singer, Agustin Magaldi, to take her to Buenos Aires. This is a move proving disastrous on his part, as she soon leaves him to sleep her way up the star- studded ladder of Buenos Aires high society. She becomes a model, a radio star, an actress, but that all changes upon her meeting of Colonel Juan Perón, whereby an instant attraction forms. The decorated Colonel is immensely popular with the citizens of Argentina, and has strong political dreams, soon to be intensified by Eva's own ambition. Ché acts as a cynical, disillusioned narrator to Eva's story; mocking the mourners at her funeral, and noting the Argentinian upper-class's distaste for her. Ché acts as a foil to Eva, pessimistic and sour in comparison to her bright and infectious persona. Each character is portrayed beautifully, as each actor brings their own unique stylings and expertise to the role. The choreography is impeccable, showcasing the actors various talents for every style of dance featured, from tango to waltz. The musical score is spectacular, and the lyrics evocative. The costumes are flawless, and the sets transport audience members straight into the magical heart of Buenos Aires. Truly, one must bear witness to each and every aspect of this musical to truly understand the impossible marvel that is "Evita, the Musical".
This musical is made especially powerful by its willingness to explore every aspect of Eva Perón's life - it doesn't depict her as a hero, not as the goddess her people believed her to be. But neither does it paint her as a villain, the manipulative whore the aristocratic class made her out to be. No, "Evita, the Musical", gives us Eva Perón, the human; Flawed and complex, strong, yet vulnerable. The most famous song to come out of the musical, "Don't Cry for Me, Argentina", is a perfect example of this. During this song, Eva admits to her colorful history, her "wild days", but reveals that despite her past desire for fame and glory, she now only wishes to serve the people of Argentina. The vocal range required for this number is astounding. The notes seem to bounce off the walls of the theatre and resonate in a beautiful, jaw-dropping belt, sure to amaze even the most experienced of theatergoers. This song alone is a feast for the senses, as audience members are sure to be captivated by both the remarkable visual elements, and the sensational musical score.
"Evita, the Musical" will open its China tour in Shanghai, where it will run from September 6-15. It will then continue on to Wuhan on September 20th, Xian on October 12th, Nanjing from October 23-26, Suzhou from November 1-5, Hangzhou from November 13-16, Shenzhen from December 4-7, and Guangzhou from December 13-15. This beloved West-End classic is sure to entertain and astonish the whole family, so be sure to grab your ticket as soon as possible, and go see "Evita, the Musical". I can guarantee, you'll witness "just a little touch of star quality".