广州市越秀区流花路117号
No.117, Liuhua Rd, Yuexiu District, Guangzhou, China

艺术广东展览日期:2019年12月6日-9日(周五 至 周一)
开幕时间:2019年12月6日 15:00
贵宾预展:2019年12月6日 10:00-20:00
公众观展:2019年12月6日-8日 10:00~18:00
2019年12月9日 10:00~17:00
---------------------------------------------------------------------------------
Exhibition Date: 6-9, December, 2019 (Friday to Monday)
Opening: 6, December 15:00
VIP Preview: 6, December 10:00-20:00
Public Exhibition: 6-8, December 10:00-18:00
9, December 10:00-17:00

2017年, 第八届艺术广东高举当代艺术大旗,开启了华南地区当代艺术的首航之旅。这场当代艺术博览会为中国华南地区打造了一个开放、包容的当代艺术品观赏和交易平台,树立了当代艺术品市场的新坐标,得到了各界普遍认同。
作为华南地区最顶级的当代艺术博览会,2019年,艺术广东将迎来十周年的历史节点。第十届艺术广东将秉持"立足本土,面向国际"的理念,继续为观众带来丰盛的当代艺术盛宴。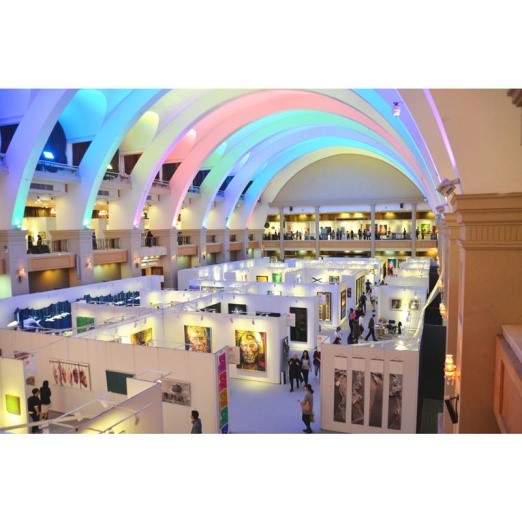 In 2017, the 8th Art Canton set sail, opening the first voyage of contemporary art in South China. This contemporary art fair has created an open and inclusive art viewing and trading platform for southern China, leading the art market and gaining general recognition from all walks of life.
As the top most contemporary art fair in South China, Art Canton will usher in its first decade in 2019. The 10th Art Canton will continue to bring the audience a feast of contemporary art based on the concept of " basing itself on the local and facing the international".
2018艺术广东的举办显现出中国文化正在以独特方式向全球渗透。展览的图录上刊登了总策展人武少宁的一篇文章《动能与艺术广东》,其中写到了武少宁的独特见解:艺术广东致力于将人们对当代艺术的审美发展为一种积极的精神力量。武少宁认为,当代艺术可以为广东艺术的蓬勃发展做出贡献,并有助于培养中国人在21世纪所需的思维与情感。艺术广东· 当代艺术博览会是人才的聚集地,他们共同创造了满足当代人类所需的文化养分,展览的创始人鲁晓昆了解这个市场,她知道艺术家正在探索实际的或未来可行的道路,而所有年龄段的艺术爱好者实际上是在通过这些当代艺术来回应艺术家的想法和感受。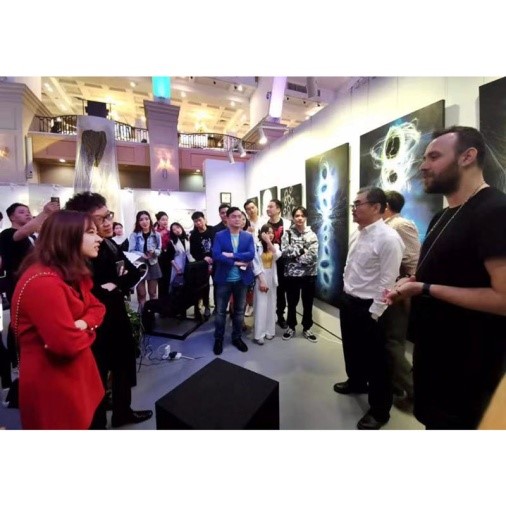 Art Canton 2018 shows that Chinese culture is growing in unique and globally momentous ways. Curator Wu Shaoning describes his strategy in his catalogue essay, "Kinetic Energy in Art Canton": The aim of this commercial platform is to accelerate appreciation of contemporary art as a positive spiritual power. The curatorial premise is that contemporary art can contribute to the vibrant scene of Guangdong arts and help cultivate ideas and feelings needed to sustain twenty-first century society inside China and out. The Canton Contemporary Art Fair is a community of talents who co-create the culture needed to meet contemporary human needs. The founders understand markets, artists explore actual or foreseeable paths of life, and art lovers of all ages who actually live the contemporary reply to the ideas and feelings that artists send and communicate.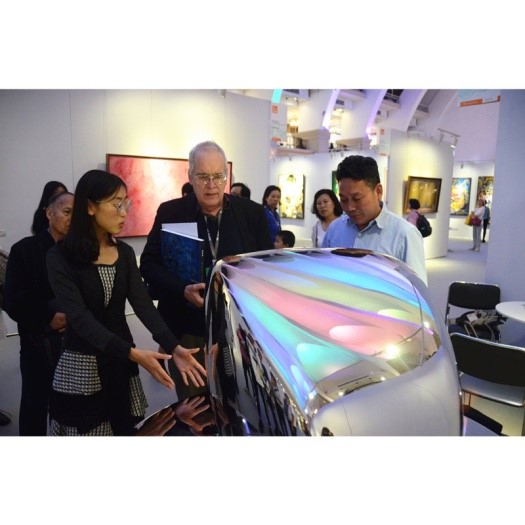 艺术广东·当代艺术博览会是广东地区的文化创意孵化器。这场展览表明,当代艺术是符合中国艺术市场的审美标准的。根据武少宁的比喻,我们可以将艺术广东·当代艺术博览会视为一项有风险的经济投资,就像将一辆昂贵的车辆投放到外太空一样危险,不像发射通信卫星一样可以预见将会到来的收益。同样,建立一个艺术生态系统——策展人,艺术家,评论家,观众,投资者,所获得的支持令我们觉得都是值得的,因为当今,中国文化和哲学中的每一步行动都将广东作为发展和全球化的中心,人类生活和自然之间的联系越加紧密。广东是一个牵引,这些想法都将引领时代进步。
The Art Canton Contemporary Art Fair is now an incubator for cultural creativity in the Guangdong region. It shows that contemporary art is consistent with the interest is authenticity that powers the domestic art market in China. Following Wu Shaoning's metaphor, we can think of Art Canton as an economic investment with risks, just as it is risky to launch expensive vehicles into outer space. The long term commitment to launching communications satellites is justified by the foreseeable benefits. Similarly, support needed to build an ecosystem of art – curators, artists, critics, audience, investors – is worth the labor, because each step strengthens Guangdong as a center for the development and globalization of the aesthetics of unity with nature and the vitality of life that circulates within Chinese culture and philosophy today. Guangdong gives traction to ideas and feelings that can spark a global advance.

VIP票100(两场博览会通用,展期内本人多次使用)
套票-70(两场博览会通用,展期内本人多次使用)、
全票-50(展期内单人单次使用)、
优惠票35(展期内单人单次使用)
--------------------------------------------------------
Set ticket:VIP ticket: 100RMB ( Pass of Art Canton and Ink Canton, unlimited uses)
Re-entry RMB 70(Pass of Art Canton and Ink Canton, unlimited uses)
One day pass:50(can be only used for one time)
Favorable Price:35(can be only used for one time)