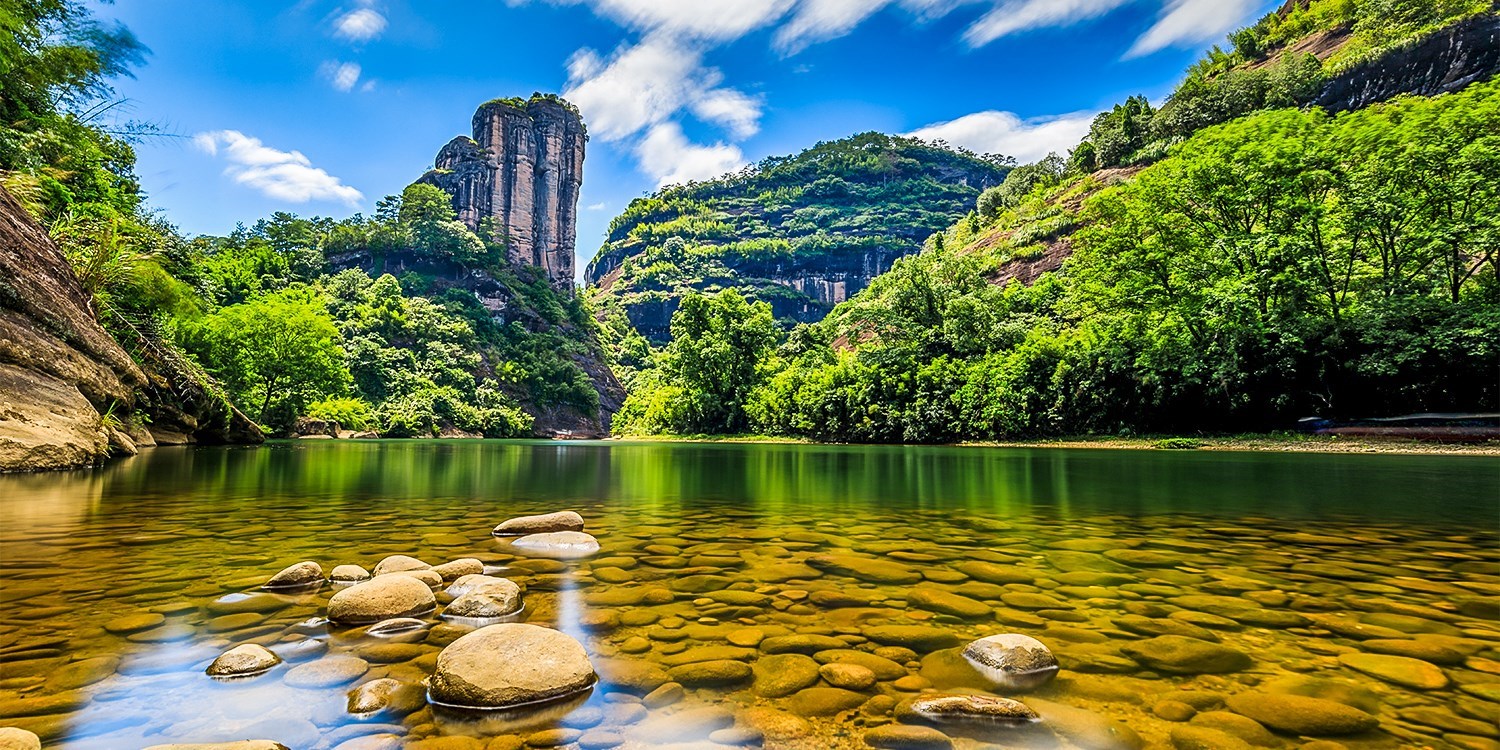 Wuyi Mountains Travel Package: RMB1,375 for 2 Nights
Discover one of China's most scenic tourist attractions and enjoy a two-night stay at a luxurious hotel with this special travel package. You'll spend two nights in a family suite at the Moonyo Holiday Hotel, which includes breakfast for parents and children, dinner and a shuttle to and from the hotel. The hotel is located near the Wuyi Mountains, a UNESCO world heritage site in northern Fujian province. This not-to-be-missed attraction is just 2.5 hours away from Shanghai via high-speed train.
Chenzhou Intercontinental Hotel, Xiamen
Wuyishan Manyue Selected Resort Hotel
No. 18 Building, Ziyang Ancient City, 208 Dawangfeng North Road
Wuyi Mountain Scenic Area 354300
0599-8911888
Package details:
Package A: RMB1,375/2 nights: 90-square-meter family duplex suite (including a 2 meter and 1.5 meter bed)
Package B: RMB1,125/2 nights: 45-square-meter queen bedroom (including one 2 meter bed and 1 1.2 meter tatami mat)
*Note that package deals exclude transportation (i.e. flights, trains, long distance bus, etc). Customers must arrange this independently. Please confirm reservations with the hotels once you purchase a travel package. Bookings are subject to hotel availability.
You might recognize the Wuyi Mountains from China travel guides, which feature stunning images of dramatic gorges set along the serene Nine Bend River. Home to plenty of historic temples and monasteries, the national nature reserve and scenic area also serves as a refuge for several ancient species. The mountain range was first listed as a UNESCO World Heritage site in 1999.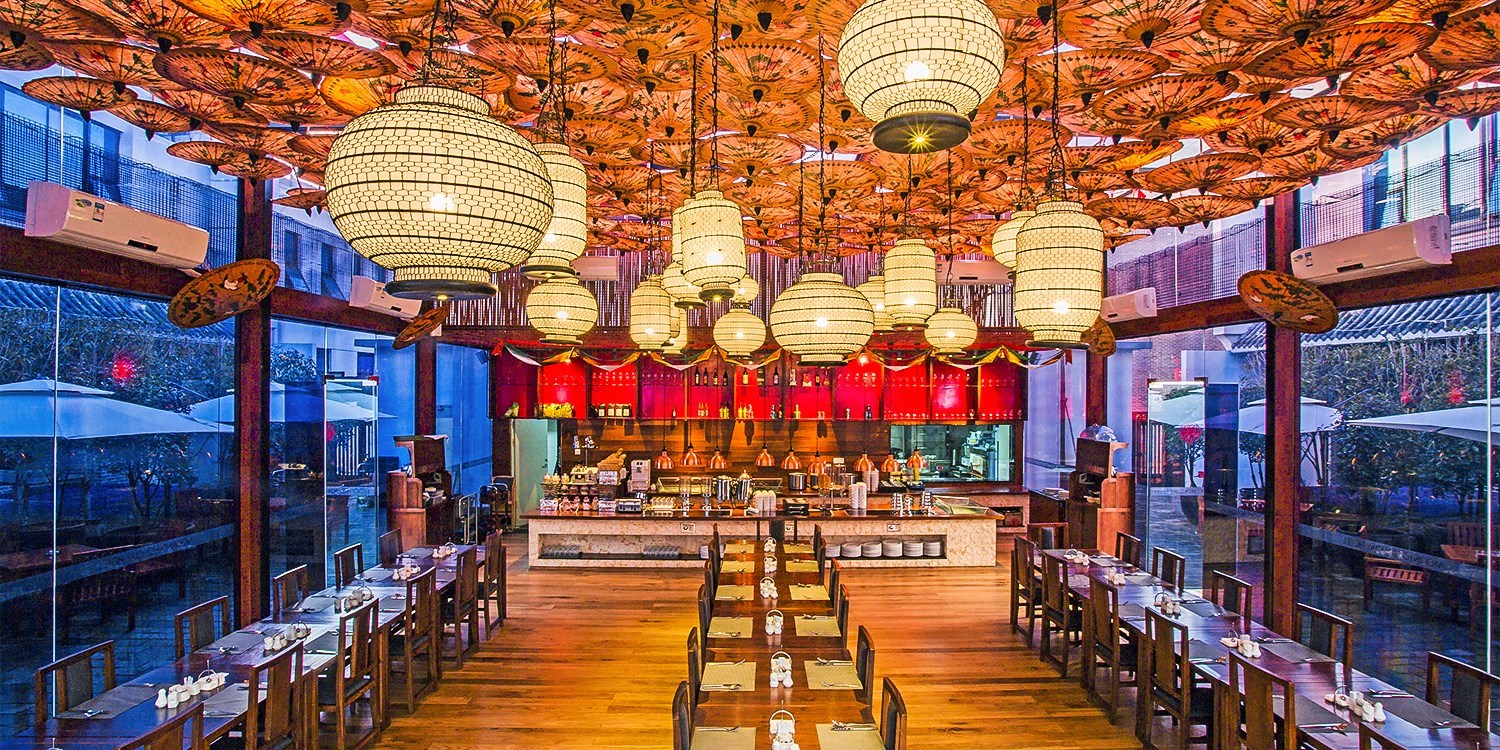 This travel package offers you the perfect spring out for the whole family at a bargarin price. You'll stay in a 90-square-meter double bed family suite for two nights.
Package includes:
Two-night-stay in a double bed family suite
Two adult and two child breakfasts (free for children under 1.4 meters or younger than 12 years old, but please notify the hotel in advance if there are at least two small children)
Welcome fruits
One set dinner (includes four dishes and one soup, complimentary fruits, rice and Wuyi tea)
Free shuttle service between the hotel and Wuyishan High-Speed Railway Station
Free use of tea bar, book room, gym, painting and calligraphy halls
Free laundry
Butler service, travel information, ticket booking, etc
A special Wuyi tea souvenir upon depature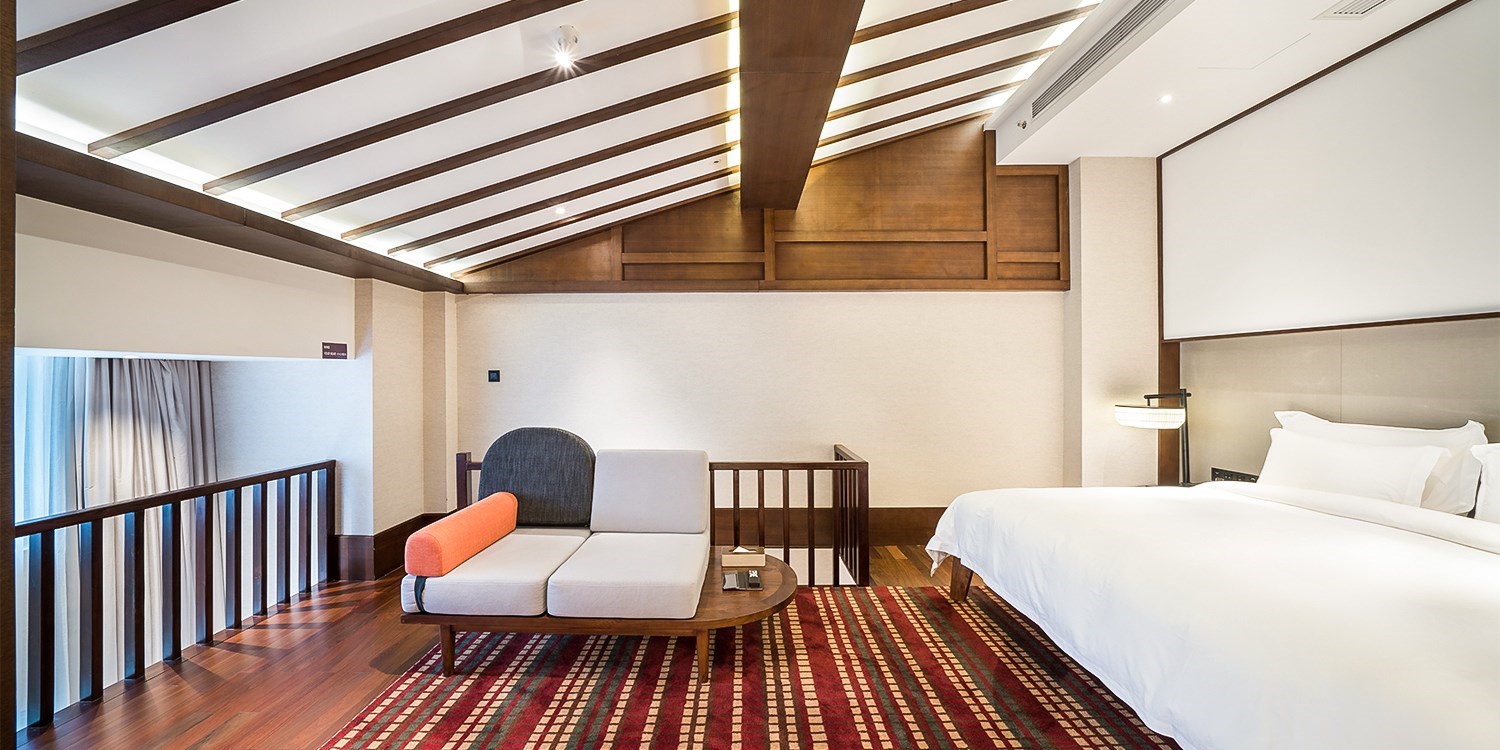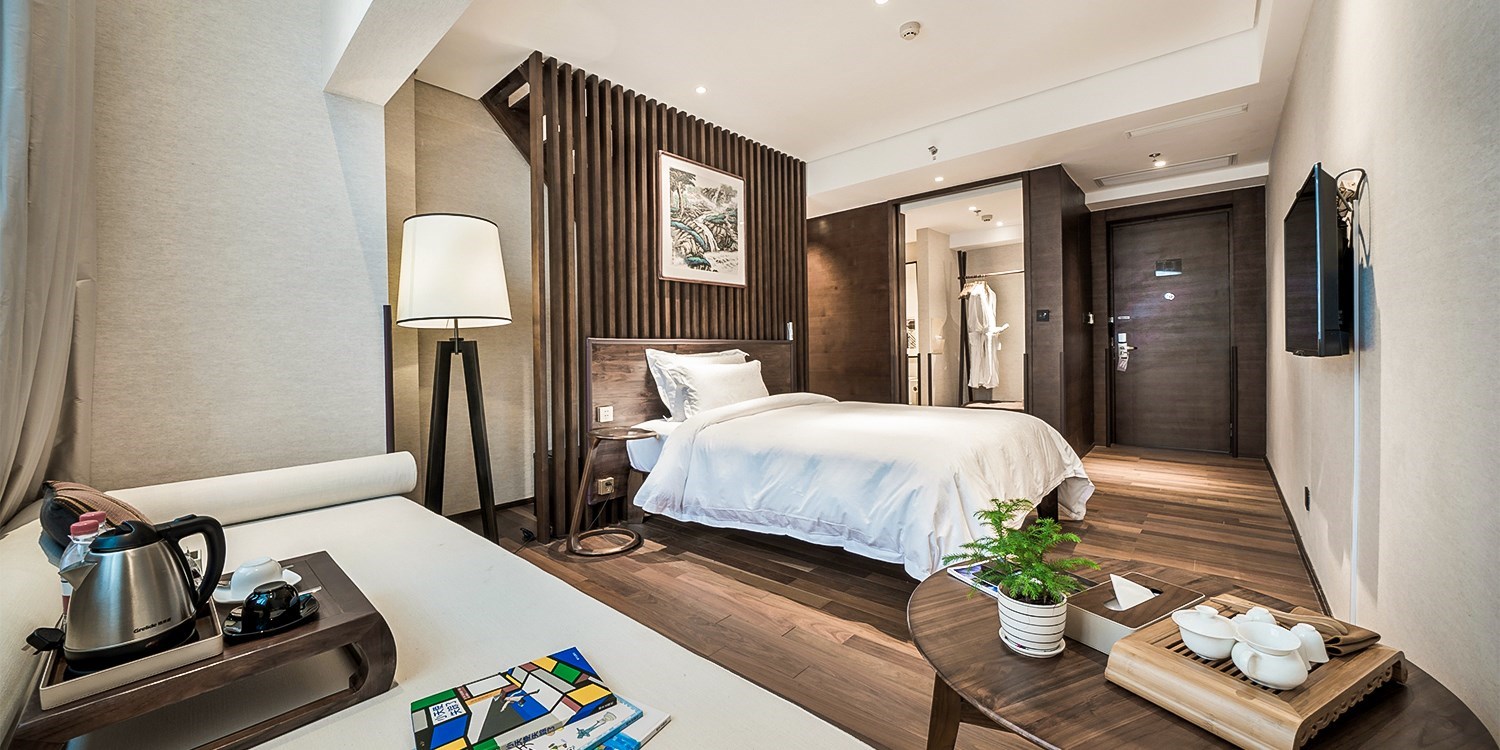 No extra fees for Dragon Boat Festival.
Important information
High-speed trains to Wuyishan Railway Station typically arrive daily every one to two hours between 6am and 5pm. The hotel arranges a free pick-up service from the station.
The family suite is a 90-square-meter duplex featuring beds upstairs and downstairs.
Wuyi Highlights
The Wuyi Mountains Scenic area is huge, featuring tons of different attractions. If you're not sure which areas to visit, we've highlighted the main spots…
1. Mountains
If you only have one day to visit the Wuyi Mountains, then you absolutey can't miss Heavely Tour Peak, 'Thread of Sky' and the Da Hong Pao Scenic Area.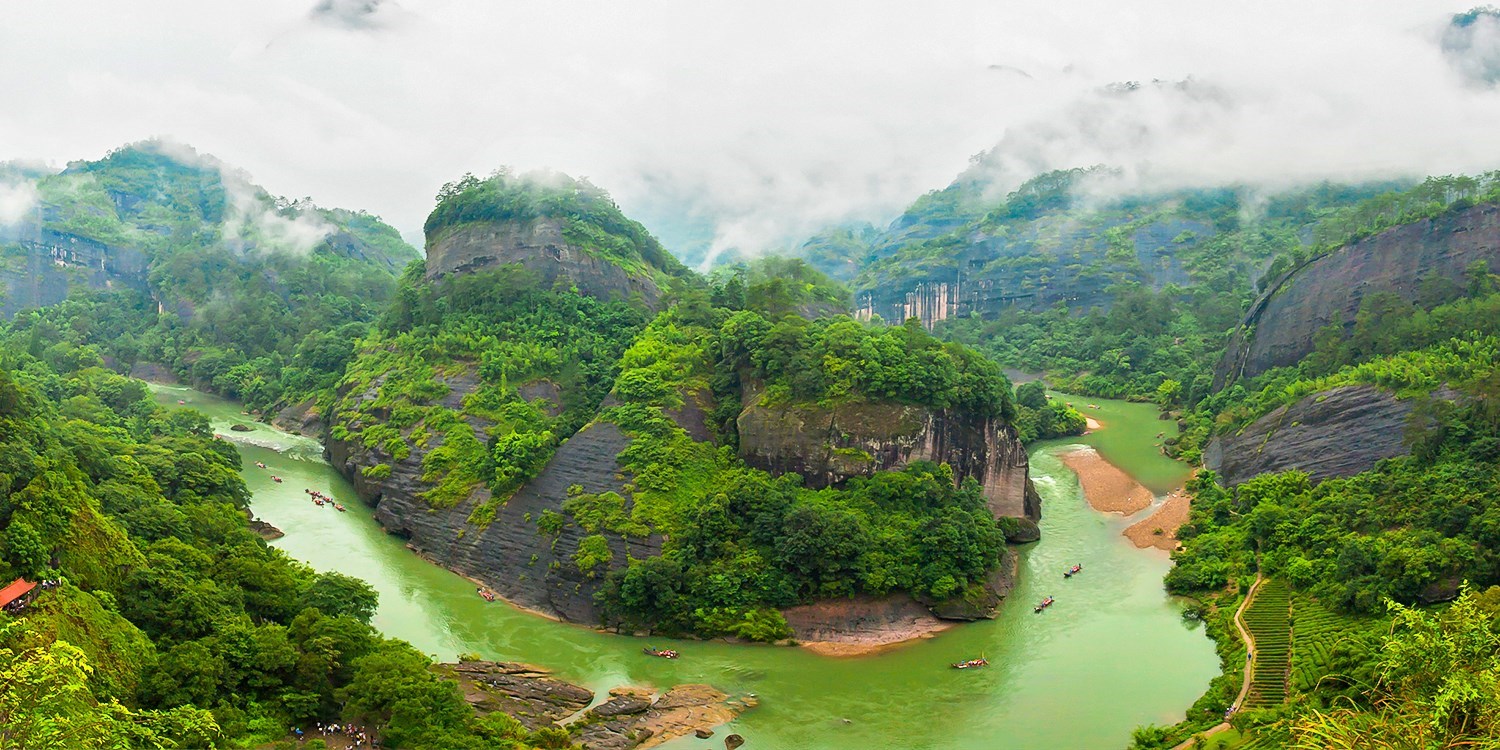 If you have more time, you can also climb Tiger Roaring Rock, or take a walk through the flower-filled valleys, where the famous 'Wuyi Rock Tea' is produced. Purchase a two-day ticket to see this spots, which includes a bamboo rafting journey.
2. Rivers
See the other side of the Wuyi Mountains by drifting along the Jiuqu River on a bamboo raft. You can take the bamboo raft to Wuyi Palace and stroll along the surrounding ancient streets first built during the Song Dynasty. Here you can also try local snacks or buy local handicrafts and tea wares.
3. Rock Tea
If you visit Wuyi, then you've got to try its famous 'rock tea!' This semi-fermented dark Oolong tea is grown on the mineral-rich soil of Wuyi's rocky terrain. The hotel has also specially prepared a tea ceremony for guests to try the tea and bring some home.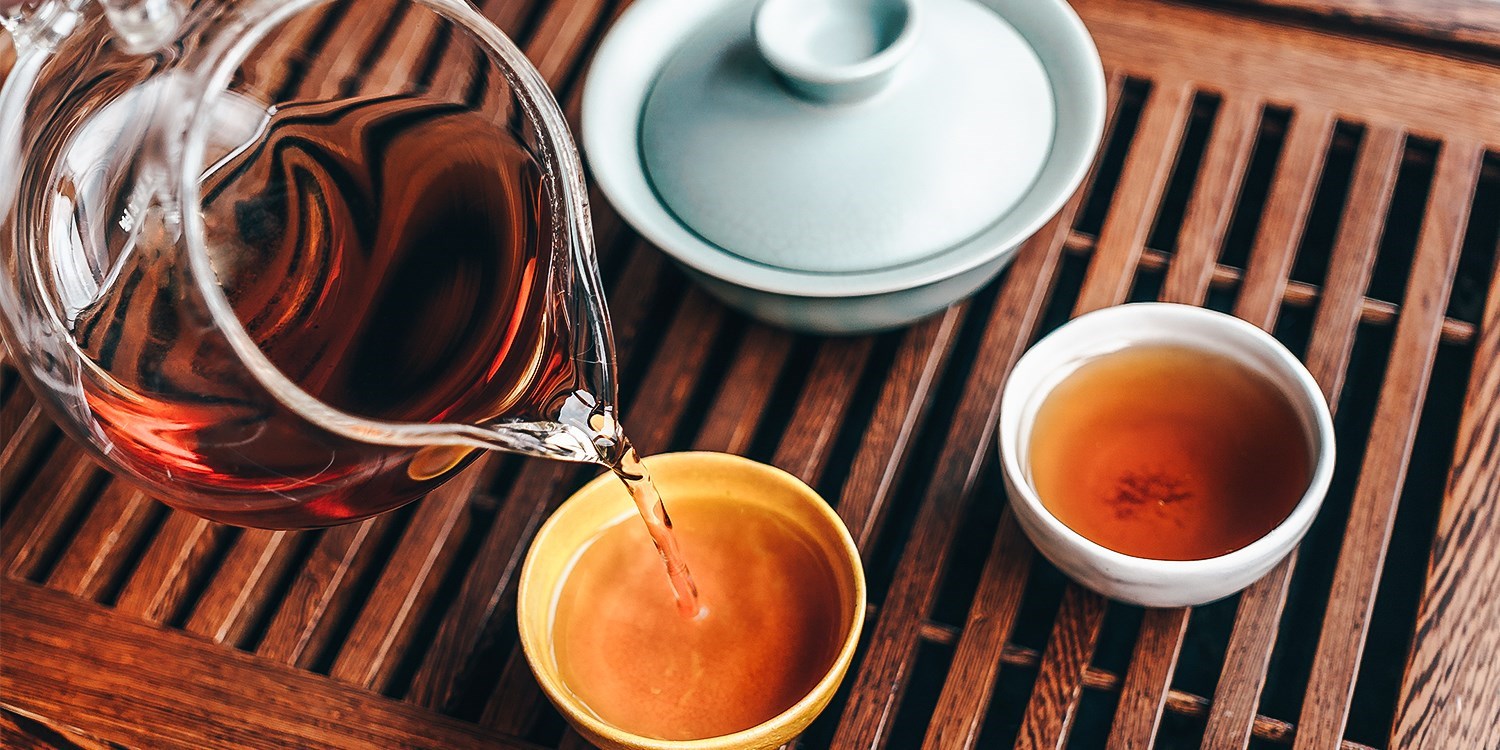 4. Culture
The Wuyi Mountains are listed as a UNESCO World Heritage Site, with the 2,200-year-old site of Wangcheng dating back to the Han Dynasty. Each year, the area attracts numerous literarature enthusiasts and scholars wanting to experience Wuyi's ancient academic sites, cliff stone artifacts, temples and other Taoist sites. The area is also home to several relics from the ancient Min-Yue cutlure. To the south of Wuyi is another ancient town with thousands of years of history.
5.' Impression of Da Hong Pao' Show
This large-scale theater show staged against the natural landscape of Wuyi is a must for vistitors. Directed by famous Chinese directors Zhang Yimou, Wang Chaoge and Fan Yue, this show offers a unique evening performance staged on the water. Guests are seated on a 360-degree rotating auditorium, allowing them to view this spectacular landscape drama from every angle!
Tip: the hotel staff is very familiar with the scenic spots of Wuyi Mountain. If you have any questions about the area, please consult them. The hotel staff can also provide transportation advice and even help you book or arrange vehicles to the scenic areas.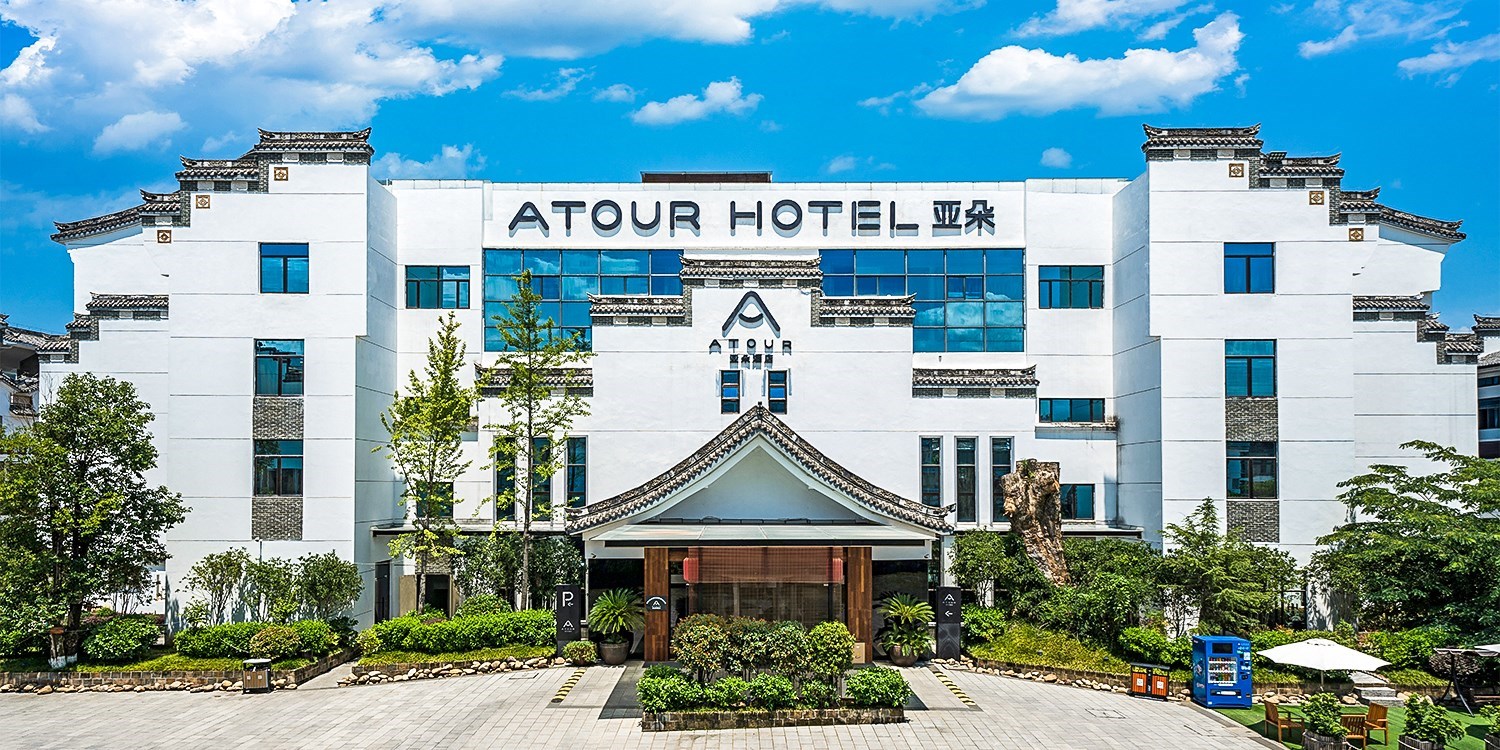 Each room features Tatami-style queen-size beds (with FREE extra blanket service). Additional breakfasts are RMB48/per person. The hotel cannot provide additional bed service for any types of room.In addition, no extra bed is available for all rooms.
Children's meals are free for children below 1.4 meters. Otherwise it's RMB48 per adult or child above 1.4 meters.
This offer is different from booking directly with the hotel, and the package only applies when you purchase the voucher through thMart.
[Validity Period]: February 21, 2019 - June 30, 2019. Please call 0599-8911888 at least three days in advance to confirm your booking
[Refund/Cancellation Policy]: Reservation cannot be cancelled once confirmed. Please notify the hotel at least one day in advance if you need to change your check-in date.
All service charges are included in this package. You don't need to pay any extra fees.
Each coupon can only be used once and cannot be exchanged for cash or shared with other privileges.
Tickets are limited while stock lasts.
The offer does not apply to group and booked transactions.
Please read our refund policy carefully before purchasing.
When you apply for a refund, we will refund your unused/unreserved coupons in accordance with the refund policy.
Please do not click on the merchant link to make the exchange on your mobile phone. Clicking on the exchange by yourself marks the coupon as used, invalidating your purchase.
超值价格
春暖花开时,看腻了江南的曲桥流水,不如去看看郭沫若所说的"桂林山水甲天下,不如武夷一小丘"是怎样钟灵秀毓的风景。
厦门宸洲洲际酒店
武夷山幔悦精选度假酒店
大王峰北路208号紫阳古城18号楼
武夷山景区 354300
0599-8911888

本季,武夷山幔悦精选度假酒店 特别为 thMart 会员带来"全家踏青赏春"套餐:
入住 90 平米双床亲子套房,全家出游也能住得舒服;
连续 2 晚入住,时间宽松玩得更从容;
乘高铁从上海至武夷山最快仅需 2.5 小时,酒店还赠送高铁接送站。
优惠详情
推荐原因
? 高铁直达,酒店免费接送:从早上 6 点到 晚上 5 点,每隔 1-2 小时就有一班高铁直达武夷山,可以根据自己的时间灵活安排;时间不长,熊孩子也能老实坐车;酒店还安排了免费接站服务,全程无忧。
? 游世界文化 & 自然双遗产:早在 1999 年,武夷山就被联合国教科文组织收录入世界文化 & 自然遗产名录,不仅有奇山秀水,也有保存完好的历史文化遗迹,是带孩子"边玩边学"的最佳目的地。
? 升级房型,全家也能从容入住:此次套餐中优选 90 平米复式亲子套房,楼上楼下都有睡床,全家出行住得更舒适,2 晚入住,行程不赶体验更佳。

??【制作人攻略】 来到武夷山,这些"好看" & "好玩"别错过


奇山:如果你只在武夷山景区游玩一天,那别错过天游峰、一线天和大红袍茶园!如果你还有更多时间,还可以去爬虎啸岩、或走一走以岩茶出名的岩谷花香漫游道(可以购买包含竹筏漂流的 2 日联票)。

秀水:乘坐竹筏,从九曲溪漂流而下,你能看见武夷山的另外一面;下了竹筏直达武夷宫,在仿宋代的古街上逛逛,还能品尝当地小吃,或者看看当地的工艺品和茶器。

岩茶:来到武夷,怎么能不品岩茶?大红袍、正山小种、金骏眉,都是武夷茶中的佼佼者。每年谷雨前后(今年是 4 月 20 日),还有祭茶喊山仪式,祈求茶叶丰收。酒店还特别为住客准备了特色茶礼,把武夷风味带回家。

文化:武夷山有 2200 年前的汉代王城遗址,被列为世界文化遗产;这里曾吸引无数文人雅士的流连忘返,有无数书院遗址、 摩崖石刻遗迹以及历史悠久的庙宇和道观;武夷山也是古闵族文化的宝库,高崖悬棺的奇景令人称叹;武夷南麓还有一座千年历史平和古镇,古建筑和民俗活动都很有特色。

印象:《印象大红袍》是张艺谋、王潮歌、樊跃共同创作的山水实景演出,也是印象系列的第五部。以夜色为幕,以武夷山水为台,观众席能 360 旋转,真正无死角欣赏这出山水大剧!


小贴士:酒店的工作人员对武夷山的景点非常熟悉,如果有任何疑问,可以咨询他们;他们还会给出交通建议,甚至协助你预定或安排车辆。
几木大床房榻榻米提供免费加被子服务,成人加单早 ¥ 48 / 间夜;此外,酒店所有房型不提供加床服务。人价 ¥48 / 位。
儿童用餐:1.4m 以下免费,1.4m 以上成人价 ¥48 / 位。
此优惠与直接向酒店预订方式有所不同,您将通过 thMart 交易程序购买兑换券。

【适用日期】2019 年 2 月 21 日- 2019 年 6 月 30 日。
【预定方式】请至少提前 3 天,致电 0599 - 8911888
【退改政策】预订一经确认后不可取消;如需修改入住日期,请至少提前 1 天通知酒店。

每张兑换券只能使用一次,兑换券不能兑换成现金、也不能与其它优惠同享。兑换券数量有限,售完即止。

优惠不适用于团体及已预订的交易。请您在购买前仔细阅读我们销售条款中的退款政策。对于您未消费/未预约的兑换券,在您申请退款时,我们将按照退款政策为您办理退款。

请勿在手机客户端自行点击商户兑换,自行点击兑换则视为该兑换券已使用,因此视同作废。